NDAA Automatic Number Plate Recognition Camera with OCR for day and night.
Compatible with all NYX Network Video Recorders.

.
The IPB4-832 ANPR camera captures number plate images day & night and uses Optical Character Recognition to send the number plate data to any NYX NVR.
This data can be used to quickly search video footage or can be stored in the recorder's internal 10000 entry database in customizable block & allow lists. Using this information you could track movement of known vehicles, be alerted to un-authorised vehicle access or whatever else you might require.

Capture Specifications
The IPB4-832 ANPR camera can capture vehicles travelling at speeds up to 70km/h and at a distance from 10~30m utilizing the motorized 8~32mm vari-focal lens.
Installation angle permits a deviation of up to 30° horizontally and vertically off axis to the front or rear of the vehicle.

Easy to install Plug & Play Full 4MP 25/30fps vandal bullet camera supporting the latest H.265+ video encoding, IPC alarm input & output, and local recording to SD card up to 128GB.
Note: We recommend using a standard NYX AI camera as well so that you can get clear images of the vehicle details at night as the ANPR camera
will only give you a clear image of the number plate.


Features
• 4MP (2592×1520) High Definition
• OCR ANPR capture
• 8~32mm motorised autofocus IR corrected lens - 46.5°~10° angle of view
• H.265+ / H.265 / H.264+ / H.264 video encoding
• ICR auto switch, true Day/Night
• 10~40m ANPR capture range
• 1x alarm input, 1x alarm relay output
• SD Card recording up to 256GB
• 3D DNR, True WDR
• ROI encoding
• Support IOS & Android remote monitoring
• IP67 ingress protection, full metal housing and base
• Triple Stream
• 12VDC / 48V PoE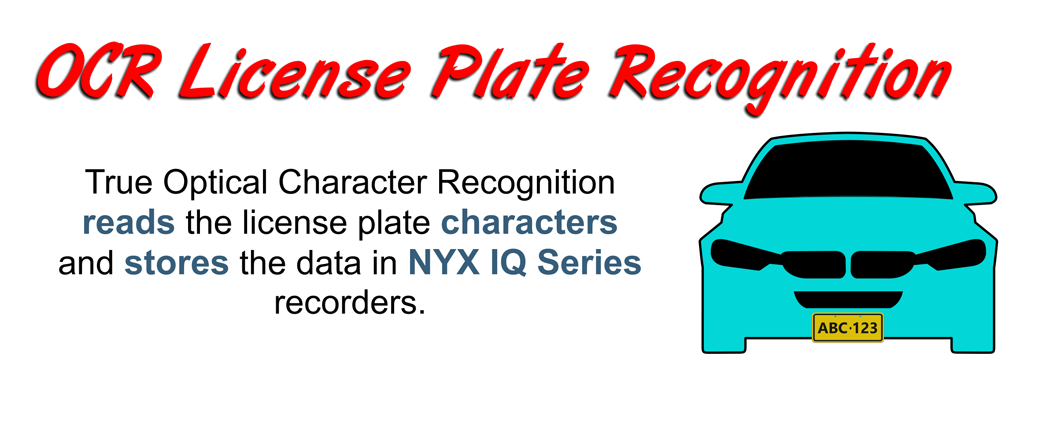 Related Products