4 Channel 4K High Definition CCTV Recorder 8MP

Updated Analytics Engine now includes People & Vehicle detection mode - Get more accurate Push Notifications straight to your Smartphone when people are detected entering your property when used with compatible NYX cameras.

4 Channel high definition PoE NVR now supports input resolutions up to 8MP on all channels!
Unique easy to operate user interface makes the NYX series of CCTV recorders stand out from the competition.

Adopting the most advanced SOC technology to ensure high definition recording in each channel and outstanding reliability of the system.

Integrated with 4 PoE Plug & Play ports allowing for easy IP Camera connection. Simultaneous 4 Channel playback and 4K high definition display output.

Point of Sale (POS) support. Find video footage by searching for product sold or item price. Transaction details are overlaid onto video stream.

Comprehensive User Management allows for any combination of local and remote user privileges, ideal for large organizations with multi-tiered management such as Hospitality or Government.

With Time-Slice Thumbnail and new Intelligence Analytics search capabilities, finding the footage you need takes seconds, not hours!
Supports NYX ANPR camera for License Plate Recognition


The perfect choice for meeting the demands of your security requirements.
Latest H.265 encoding standard gives better quality recordings with less bitrate
More efficient encoding - get more footage on your HDD
Up to 10TB of storage capacity
Built-in PoE switch - making installation faster and easier
Time-Slice Thumbnail and Intelligence Analytic Search - find footage quickly
IPC alarm support
2-Way audio
iPhone and Android remote viewing with Push Notifications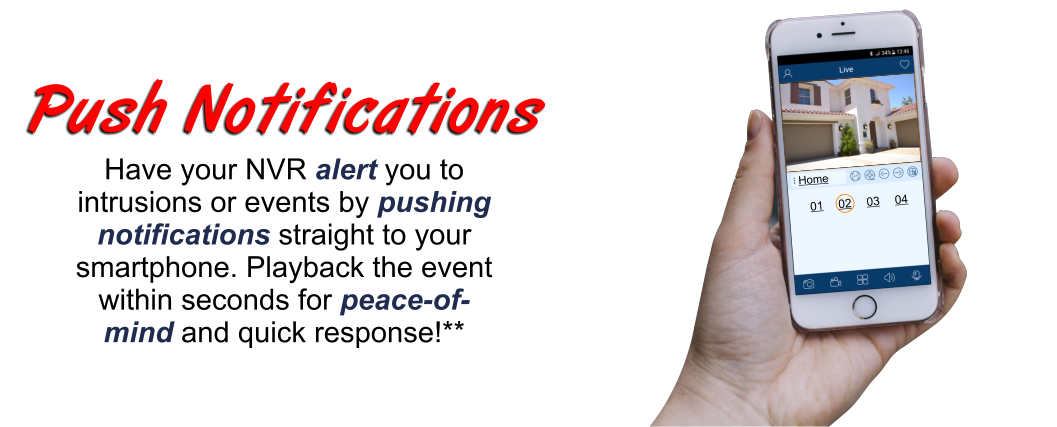 **Disclaimer: The NVR or IP camera operate as a stand-alone device and do NOT require Internet/WiFi connection or mobile app services. Push Notifications are an optional service that is dependant on 3rd party infrastructure, which at times may be limited by network or Internet Service Provider (ISP) restrictions. For mobile app connectivity, a reliable Internet service with over 1Mbps upload speed at the recorder is recommended. Please be aware that some ISPs restrict or limit some activity within their router/modems or network, which may impact or deny access to the mobile app service. No guarantee or responsibility is accepted for connection problems based on 3rd party equipment or ISP performance. Warranty does not apply for these issues which are out of our control.



Related Products